Advertising Specifications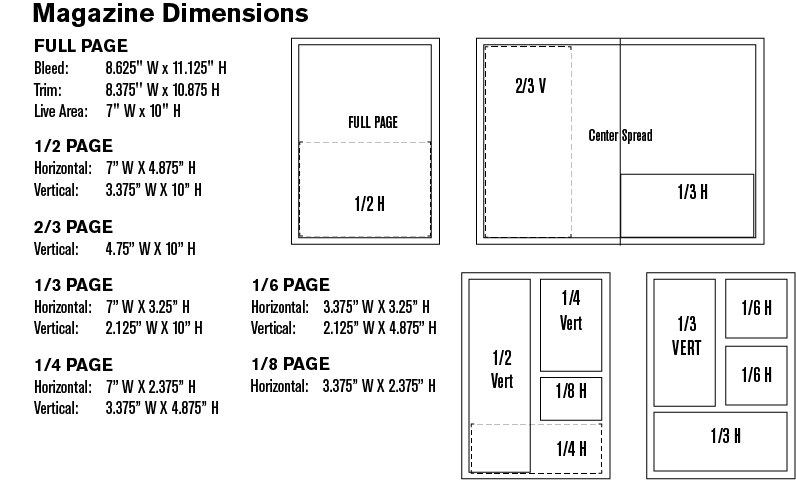 Please forward the rate card specs and requirements to your Designer, or Advertising Agency.
Advertisers take full responsibility for proofing the ad before submission. Submitted ads are considered proofed and approved by the clients.
Format Requirements
Preferred copy — Electronic files on e-mail, Flash Drive, TIFF, EPS, or high-resolution PDF files.
All files with transparencies should be flattened (e.g., Photoshop, Illustrator, InDesign).
Acceptable formats include: Adobe Illustrator CC, or earlier, Photoshop CC, or earlier, Acrobat PDFs, and InDesign CC, or earlier.
InDesign files must include images and fonts.
Photoshop files need to be 300dpi or higher.
If you are using CorelDraw please export your files as Illustrator files with fonts outlined.
All PDF files must be prepared for printing.
Please make sure there are no OPI images and that all images are CMYK, with all fonts embedded. DO NOT SUBMIT ANY ARTWORK FROM THE WEB.
We do not accept ads created in the following programs: Microsoft Word, Publisher, or PowerPoint. If you are creating ads in these programs, please include images, we will recreate them and submit a proof.
Mills Publishing accepts no responsibility for image setting errors, corrupt files; nor for providing proofs after file ready deadline. For more information, please contact Mills Art Department.
General Information
Graphic Arts Services: Advertisers who do not have an advertising agency and who request layouts and copy may obtain such services under a separate contract.
Preferred Positions: Guaranteed at 10% additional to space rate; must have a signature of the publisher. The positioning of advertisements is at the discretion of the art director, except where specific preferred positions are covered by the written commitment of the publisher.
Inserts and Gatefolds: Rates and specifications supplied upon request.
Closing date is the space reservation deadline. All contracts and position requirements should be received by our office on, or before this date to insure insertion.
All advertisements that are not file-ready and require production work of any kind should be turned in by the non-file-ready date to facilitate completion of the ad and any proofreading by the advertiser.
Artwork that is to be furnished to us file-ready must be turned in by the file-ready deadline. Additional late charges will be assessed to any advertisement requiring production work at this time.
15% off to recognized agencies for file-ready materials only. 2% off net space for payments received before publication. It is understood that all orders for space are accepted subject to our credit requirements.
Delinquent accounts (received past due date) will incur service charges.
See the contract for more complete details regarding credits, commission, discounts, and so on.